Governing Council Of CASP

Mr. Jayant Umranikar, PRESIDENT and TRUSTEE: A career police officer who retired as Director General of Police in Maharashtra. During his service, he was deputed to the Foreign Service and served in various diplomatic missions, and represented India in many negotiations. Later he served as Chief of Antinaxal Operations and with the Training and Special units. He has been awarded the Police Medal and the President's Medal for Distinguished Service. His primary areas of interest are terrorism, national security, security of establishments, and issues related to children and senior citizens.
---

Ranjana Kaul Ph.D., HON SECRETARY AND TRUSTEE: Partner, Dua Associates, a leading law firm in India, and has been in legal practice, mainly related to corporate law and litigation, for more than twenty-five years. Additionally, Dr. Kaul specializes in the law of outer space. She renders professional advice on international and domestic legal, policy, and political aspects of outer space activities and their applications, with a comprehensive, interdisciplinary approach. She holds an LLM from the Institute of Air & Space Law, McGill University, Montreal, Canada. She has been Counsel for the Union of India in the High Court of Delhi and for the State of Maharashtra in the Supreme Court of India. She serves as an Independent Director on the Board of Directors of DARCL Logistics Ltd. She also serves as Chairperson, of Shiv Niketan Education Society( regd.) which operates The Elisabeth Gauba School, New Delhi, the iconic seventy-five-year-old pioneer in early learning. Dr. Kaul has previously served as a Member of the Delhi State Commission for Women, New Delhi.
---

Mr. Dilip V. Satbhai, HON TREASURER:
A Chartered Accountant by profession also has a Ph.D. in law. He has won the prestigious "Ghamandi Prize" for acquiring knowledge in the field of law. He has been visiting faculty at Bruhan Maharashtra College of Commerce and ILS Law College, Pune. He has been specially awarded at the hands of Shri. Sharad Pawar in recognition of his commitment to professional services.
---

Prof. Pramod Purushottam Kale, TRUSTEE: Joined the Indian Space Efforts in 1962 right from the launch of first rockets in Thumba. He worked as a research student with Dr. Vikram Sarabhai and was selected as a team member for the establishment of Thumba Equatorial Rocket Launching Station near Thiruvananthapuram. As a result of his work there he was deputed to work at Goddard Space Flight Centre, NASA, USA. He retired as Director Indian Space Research Organisation and is even today a member of the review committee for satellite launches. He was awarded the Padma Shree in 1984 (at the age of 43) for his work with the Satellite Instructional Television Experiment (SITE) program which used satellites to bring educational aid to various schools in rural India. He has also been awarded the Vikram Sarabhai Award for System Analysis and Management Problems and Bharat Jyot Award in 1999. He is also a member of the Rajiv Gandhi Science and Technology Commission of Maharashtra.
---

Smt. Sudha Joshi, TRUSTEE: is an economist and social activist. She was a member of Legislative Council of Maharashtra from 2002 to 2008, and Rajya Sabha from 1984 to 1990. She chaired the committee to recommend provision of better facilities to LPG consumers which was accepted in its entirety and implemented by the Govt of India. She represented India at the "Asian Women Parliamentarians Conference on Population and the Status of women" in 1989 and was Deputy Secretary General of Asian Women Parliamentary Association. She won the Silver Medal for Acting in "Sundar Mee Honar" in 1961 and has been a Member of the Central Board of Film Censors from 1992 to 1998. She was a member of the Estimates Committee, Public Accounts Committee Mahila Bal Kalyan Committee of the Maharashtra Legislature and Chairman Maharashtra Social Welfare Board from 1991 to 1997. She is a Director of Maharashtra Sahakari Udyogini Ltd, President of the Kokan Medical and Education Trust.
---

Mrs. Vaijayanti Joshi, TRUSTEE:
is currently the Principal of ILS Law College, Pune. Her major area of interest is the law in relation to women and children particularly in relation to the underprivileged.
---
Dr. Anita Joshi, TRUSTEE:
Dr. Anita Joshi is a qualified physician with over 20 years of experience. She is passionate about leading and executing medical affairs strategies along with managing medical information and therapy teams in the Pharma and Medical sector.
---
Ms.Bhagyashree Dengle, TRUSTEE:
Ms. Bhagyashree Dengle is currently the Regional Director of, the Asia Pacific Region at Plan International and is deeply involved in developing transformational strategies to ensure that girls across the Asia Pacific are able to learn, lead, decide, and thrive through advocacy and gender transformative programs.  She has over 35 years of experience in Institution building, governance, and gender transformative programming.  
---
Mr. Mandar Joshi, TRUSTEE:
Mr. Mandar Joshi is a Chartered Accountant (CA) with over 20 years of experience.
---
Mr.Sakharam Anant Joshi, Elected Member Governing Council: completed his B.Sc. from Poona University and MLW from Bombay University. He has worked in various national and foreign industries in the Personnel and Administration Department. He has also served with CASP as a Manager in various administrative positions.
---

Mrs. Sushama Joshi, Elected Member Governing Council:
has been associated with CASP from past 20 years. Since then she has served organizations in different positions. She was DY Executive Director Program and also was the Program Manager of Pune Unit.
---

Mrs. Parinita Pal, Elected Member Governing Council:
has a master's degree in Social Work from the Tata Institute of Social Sciences. She has vast experience in implementing programs in community development, reproductive health, HIV, juvenile delinquency, and child welfare.
---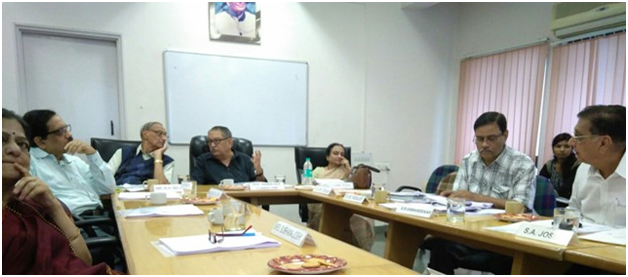 Since March 2020 the Governing Council has been meeting virtually through the medium of Virtual Conferences.
18201total visits,1visits today