MAKE A DIFFERENCE, BE THE DIFFERENCE
Saumya a Sponsored girl Child of CASP, Pune
A child's aspirations and dreams know no bounds. Unfortunately for Saumya such was not the case. Saumya was an 8 year old physically handicapped girl, who was taken under our sponsorship program. Saumya wanted to play outdoors like every other kid, but was unable due to her physical limitations.
As two years back she had met with an accident while playing on the school ground. Her shin bone broke, and the doctor put a rod in her leg during the operation. She could walk a few steps but as the height of both her legs mismatched she could not walk properly. The doctor suggested for another operation. Financial conditions made it difficult for the family to get her operated. Saumya belongs to a lower income group family. We approached Sahyadri Hospital and Samvedna Trust that supports medical surgeries in Sahyadri Hospital. We explained the financial condition of the family to the doctor. The hospital agreed to do the surgery without any cost. The operation was successful and with our nutritional support Saumya is now recuperating. Soon she will be able to walk and play effortlessly. We are just happy to see the smiles back on her and her family's face.
Jyotsna, Sponsored girl Child of CASP supported by Madhukar & Sheila Deshmukh
Jyotsna since year 1998, when she was in 2nd standard, started receiving support from CASP due to poor economic condition. Her father, the only earning member in the family, was farm laborer on daily wages. She was terminated from the sponsorship program after completion of 12th std. Without help of CASP, parents could not continue with her higher education. CASP extended its support to Jyotsna post sponsorship termination. The development Promoter Mrs. Neeraja Dev appealed to Jyotsna's sponsor (Madhukar & Sheila Deshmukh) to continue sponsoring Jyotsna for further studies. Jyotsna's dream was to join the police force. She passed the entrance exam and also completed basic training course of six months at Mumbai with Neeraja's help. Currently, Jyotsna is on training at Nagpur, earning stipend of Rs. 12,800/- monthly. Jyotsna said," CASP has changed my life and helped me to pursue my dream, which would have not been fulfilled due to my poor economic condition. I would always remain indebted to CASP for giving me a new lease of life."
Hundreds of children today need our help. We know it's an uphill battle and we have a long way to go to reach our mission of providing primary education and support to every needy child.
Sponsor a child today so that money is never an issue towards the development of a child.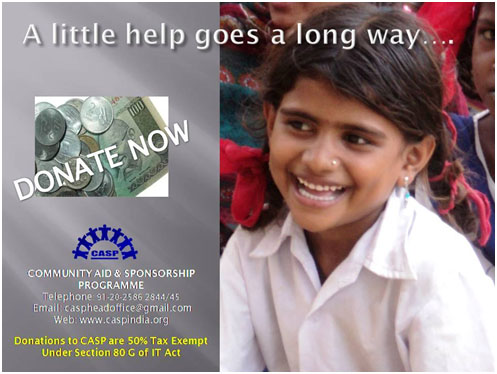 11181total visits,2visits today